Mrs Mac from Blackburn South found one day that her gas space heater had stopped working. As she had used O'Shea Plumbing in the past for her plumbing needs and had been very happy with the work done on those occasions, she decided to ring them again. This time, she spoke to Jarett, the Service Manager, who arranged to call out the next day, check what was going on and give her a fixed price quote and options to repair the heater.
Upon investigation, Jarett discovered that the gas space heater was very old. Although he recommended she replace the unit with a new, more efficient one, he still gave options to service and carry out a carbon monoxide test on the old heater. He gave Mrs Mac an option to replace the heater with a highly efficient and very safe room sealed Rinnai Energy Saver heater. The benefits of these heaters (besides being highly efficient) is that they are room sealed, meaning that all the air for combustion is brought in from outside, and the products of combustion are exhausted to the outside. Mrs Mac decided to proceed with the installation of a new heater.
Jarett went ahead and ordered the heater from the Plumbers Supplies Co-op in Mitcham. Once the heater was delivered, he met Adam (one of O'Shea's senior plumbers) on site. The first thing that they did – as is what O'Shea Plumbing always do on gas installation work – was to pressure test the gas installation from the gas meter for gas leaks.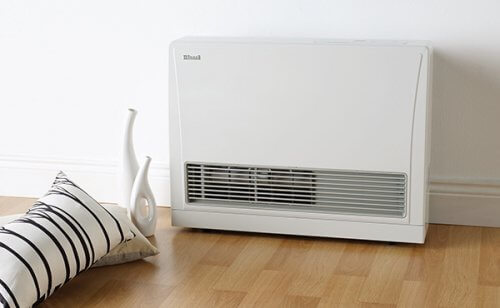 Adam proceeded with the installation of the new gas heater, conducting another gas pressure test and the commissioning of the heater, to ensure that the heater was operating according to manufacturers specifications. Within a few hours, the new heater was completely installed.
Mrs Mac was delighted with her new gas heater installation. Although it was summertime, we all know that there are some cool nights in Melbourne when people – especially older folks – need to turn on the heater. O'Shea Plumbing provides the most professional and expedient gas repairs and services Melbourne residents could ask for, call us today on (03) 9888 2887. We'll come running!