Younis from Bundoora called O'Shea plumbing after he was told by his water supplier that a pipe may have possibly burst at his house. He had been suspicious about this as his water bills had climbed dramatically.
O'Shea Plumbing sent Adam (an O'Shea Plumber) out to investigate. When Adam arrived at Younis's house he set the agenda for how the service call would go to let the client know he was determined to fix the issue. 
After Younis showed Adam the water under the house, Adam then set up some options for the client to pick as to how he would like the investigation to go. Complete price transparency was given with all of the options and Younis picked the option that he and Adam both agreed would be the most beneficial for these circumstances.
Adam set out under the house, crawling around with his torch trying to locate the potential cause of the leak. The water leak was spotted in many stumps but the source still wasn't obvious. Adam continued up to the front of the house right to where the concrete slab was for the garage. A faint "hissing" sound was heard and there was a pool of water coming from under the concrete. Adam crawled over to where a 20mm copper pipe ran into a 25mm Polly line that was running across the ground and under the concrete. There was definitely a burst somewhere under the concrete.
Adam approached Younis with his findings and suggested a new water line be run from the water meter and connected under the house. Adam explained that the chances of trying to find and fix the burst and also the chance of another burst occurring was a big risk. Younis accepted more works for O'Shea to re-run the water line.
A couple of days later, Adam came back to re-run the water line. He started by neatly cutting the grass so it would go back in the same place. A trench was dug to the garage. A 20mm copper line was run in the trench and through a hole in the wall that Adam had drilled. The copper line was then neatly clipped to the inside of the garage perimeter and back under the house to connect to the existing line.
Adam had kept Younis updated with changes to the plan as a few issues had come up to see if Younis was ok with how the exposed pipe work would run.
After all of the work was finished, Adam tested the water on the property to make sure all the taps and fixtures were working correctly. Younis was so happy with the works that had been done that he had left a lovely 5-star review for Adam which can be viewed on the O'Shea plumbing review page for Bundoora.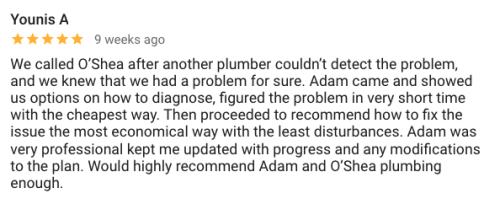 If you are looking for a plumber Melbourne residents trust, call O'Shea Plumbing! Call us today on (03) 9888 2887