When looking for a plumber, Ormond locals know their best option is O'Shea Plumbing. We're the team with the equipment, experience and service delivery you need when it comes to your property!
Gas leaks, a burst pipe and home renovations are no laughing matter. Make sure you have the right team on your side!
Your property's plumbing is something you can't take chances with. If something goes wrong, you're putting your convenience, your assets and potentially people's lives at risk. Luckily, as these two short case studies will show, O'Shea Plumbing knows how to help anyone in Ormond—home or business owner - when you have a crisis.
| | | | | |
| --- | --- | --- | --- | --- |
| Certified Professionals | Labour Guarantee | 7 Days a Week | Fixed Fee Pricing | Special Offers & Discounts |
We Always Get the Job Done
Stephen purchased a property in Ormond and found that there were a couple of plumbing issues that he wanted rectified, with the largest issue being that during heavy rains the guttering would overflow.
New to the area, Stephen found O'Shea Plumbing on the internet and had a quick read of some of the positive reviews from clients. He decided to call our Mt Waverley base and organised a plumber to come out.
The next day Andrew arrived and introduced himself and O'Shea Plumbing. Andrew spent time checking the existing set up of the storm water drain, including what was in the street. Andrew came up with a good option for Stephen and jumped in his van to write up a quote.
This quote was sent through and discussed with Stephen who wanted to chat to his partner when they got home. Over the weekend, Stephen contacted O'Shea Plumbing and gave the green light for the works.
On the following Monday, Andrew organised materials to be delivered on the day of the repair and met Nathaniel (another O'Shea plumber) on site to discuss what was required throughout the day.
Nathaniel replaced a section of storm water drain from the front corner of the house all the way to the front fence, this removed a very old section of clay pipe which had deteriorated to the point of no return. Nathaniel also cleared the remainder of the storm water drain on the property, giving the drain the best chance to discharge the rain water as quickly and safely as possible.
Stephen was pleased with the quality of work completed by the O'Shea team and grateful that his gutters would no longer overflow in heavy downpours.
Another case study
Grant envisioned many day lazing by his gas heated pool swimming all year round. However, after a couple of years he found that the heating was not working as it should have been. Every now and again the heater would cut off when not yet at the desired temperature and would take longer than recommended to heat up.
Grant had another gas company replace the existing piping which unfortunately did not have the desired effect.
Jeff (O'Shea Plumbing's gas specialist) was organised to pop over and have a look at the situation. Jeff noticed the distance from the pool pump to the gas meter was quite a distance and wondered if the gas pipe was sized correctly to accommodate an adequate flow of gas.
Jeff did a series of tests and found that the gas piping throughout the house was undersized and offered a couple of solutions.
Grant chose the option to run one new gas pipe from the gas meter to the pool heater. O'Shea Plumbing completed the required works, including digging a long trench to correctly bury the copper gas pipe, installing the gas pipes under the existing planter boxes, and back filling the required trench. There is a 25 year warranty on all joins in the pipe work.
Grant is now living the dream of the heated pool all year round. Great work team!
O'Shea Plumbing are your go-to plumbers in Ormond. Our team of highly skilled plumbers can assist you with all your plumbing needs, from a simple tap repair to an urgent plumbing emergency, or any job in between.
Why choose O'Shea as your plumber in Ormond?
No Risk Upfront Pricing
Plumbing Professionals
Complete Plumbing Check
Family Owned Local Business
Fast and Friendly Same Day Service
We are always available 24/7
Ormond Plumbing Services for All
All types of properties need quality plumbers to help look after the plumbing infrastructure. But who do you trust for which of your properties? When working with O'Shea Plumbing you have your one stop plumbing solution, because we're experts for both commercial AND domestic plumbing.
Got a Gas leak? Call O'Shea! Want some help installing new appliances? We're there for you! Need backflow testing? O'Shea can assist! Need thermostatic mixing valves? We do that too!
For plumbing work across the board, no job is too big or small for our team. And we bring our expertise and excellent workmanship to the table, so you know each piece of work is of top quality. We'll have it done swiftly too, so downtime is kept to a minimum. Backed by 40+ years of experience and we're proud of the excellent workmanship we provide our clients.
Got a Gas leak? Call O'Shea! Want some help installing new appliances? We're there for you! Need backflow testing? O'Shea can assist! Need thermostatic mixing valves? We do that too!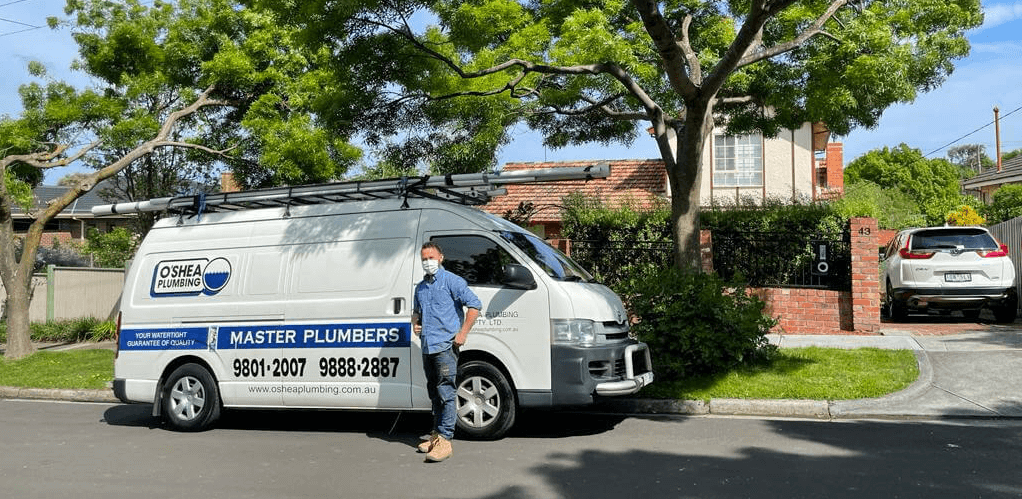 The Plumber Ormond Trusts
When O'Shea Plumbing leaves your premises after unblocking a drain or helping with renovations, you can have peace of mind that you just received the best possible plumbing services.
Firstly, our pricing is reasonable and you'll know exactly what you're paying for, thanks to our process that starts by issuing you with a quote. When on your premises, we'll keep you up to date about progress discuss each step with you and make you part of the decision-making process. After all, it's your property.
Emergency Plumbing Services — 7 Days a Week
When it comes to gas, water and other plumbing problems you simply can't risk postponing action. You never know how quickly a tiny problem will escalate to a full blown crisis; a gas leak, a damaged gutter or a leaking pipe can wreak havoc and pose major health and safety risks.
We're the plumber Melbourne residents can call for their emergency plumbing needs. O'Shea Plumbing is available for emergency services every day of the week. And you can relax about your budget because there won't be any surcharges for weekend callouts
Book a quote online!
If you're seeking the best plumbers in Ormond, contact us at O'Shea Plumbing to schedule an appointment. Our professional plumbers are here for all your emergency or non-emergency plumbing services. We're only a phone call away on 03 9888 2887.
Book a quote online!
Fast. Reliable. Trusted.