For all types of plumbing problems in Forest Hill, you only need one number to call. O'Shea Plumbing's 40 years of experience makes us the best plumbers to team up with, no matter your plumbing challenge.
From a gas leak to helping with renovations or unblocking your drain, we're the experts you can trust!
| | | | | |
| --- | --- | --- | --- | --- |
| Certified Professionals | Labour Guarantee | 7 Days a Week | Fixed Fee Pricing | Special Offers & Discounts |
When it comes to plumbing, if you don't respond in time and with the right solution, a small problem can become a huge issue. That's the reason for our extensive range of services and why we offer emergency plumbing services in Forest Hill too. And this case study is just one example of how O'Shea Plumbing puts our customers' minds at rest, every single day.
Andrew arrived and spoke with Ellen about what her dream set-up would be. Unfortunately, there were a few structural issues in the way of her exact dream set-up, but Andrew provided some alternatives which would provide a similar outcome with less issues.
Andrew and Scott (another O'Shea plumber) worked with Ellen to install a new electric hot water unit, and an A-grade electrician provided a certificate of approval to provide enough hot water to satisfy those puppies. A pump was required to be installed (cleverly placed in the adjacent room out of the way).
A couple of months had passed when Ellen noticed there was a leak elsewhere on her property. Because of her previous positive experience with our team, she had no hesitation in ringing O'Shea Plumbing.
Andrew arrived later in the afternoon and found that a section of the existing galvanised iron water pipe had a pin hole in it causing a small amount of water to leak into the courtyard. He found that there was not just one section of the same pipe (same age, same risk of bursting) and advised Ellen to replace the section of rusted galvanised iron water pipes. Ellen agreed and Andrew organised the plumbing suppliers to deliver the remaining materials on site and replaced the section with copper shortly after.
Another happy O'Shea client!
O'Shea Plumbing are your go-to plumbers in Forest Hill. Our team of highly skilled plumbers can assist you with all your plumbing needs, from a simple tap repair to an urgent plumbing emergency, or any job in between.
Why choose O'Shea as your plumber in Forest Hill?
No Risk Upfront Pricing
Plumbing Professionals
Complete Plumbing Check
Family Owned Local Business
Fast and Friendly Same Day Service
We are always available 24/7
Your Go-To Plumber in Forest Hill
Your property's plumbing affects so many aspects, from health to convenience. And if you don't fix a problem like a gas leak or a blockage correctly, the situation can escalate and create dangerous, expensive or unfixable situations. That's why you don't trust just any plumber Forest Hill has available. You work with the best to give yourself peace of mind. Home and business owners in Forest Hill give O'Shea Plumbing two thumbs up and raving reviews, proving that we're the company to trust with your next plumbing problem.
Our 40 years in the industry give us the insight and experience to know how to ensure the best outcome. We also stay on top of new technology and industry methods to help and protect our clients. And because we provide a wide range of services, you can put us on speed dial, because we'll handle whatever you're facing. Whether it's help with your renovations, or you fear leaking gas, O'Shea Plumbing is ready to assist.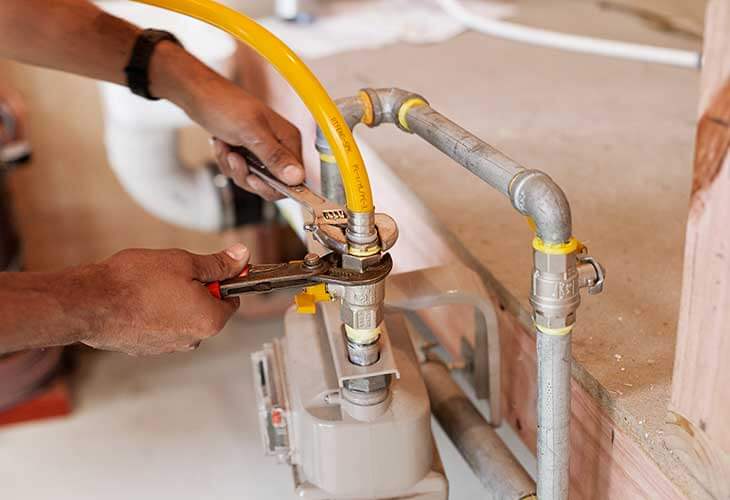 Serving All Sectors with Plumbing in Forest Hill
Plumbing is not a 'one size fits all' industry, so when looking for a plumber Melbourne residents must think wisely who they trust to work on their properties. Your commercial property needs differ vastly from domestic plumbing requirements, so make sure you get the right man for the job for your specific property.
Luckily for Forest Hill property owners, we offer a range of domestic and commercial plumbing services. We can assist homeowners with domestic plumbing concerns such as water or gas leak detection and installation of appliances. For an industrial or commercial property, call us if you need assistance with backflow testing or even thermostatic mixing valves. We're ready to assist you in all things 'plumbing' and we make sure the businesses we serve stay compliant with government regulations. Want to minimise your plumbing expenses? Talk to us about preventive plumbing maintenance programs. For homes and businesses, O'Shea Plumbing can help you manage your plumbing better than ever before.
Forest Hill Plumbing 7 Days a Week
Time is of the essence, so let's get your plumbing problems sorted today, limiting damage to property and risk to people. You can make use of our emergency plumbing services when you face issues with gas, problems with water filters, gutters and downpipes or a leak somewhere on the property.
Our teams are ready to assist 7 days a week. And because we don't want you to postpone the repairs, we won't ask you to pay a surcharge for emergency work we do over the weekend. We're the experts in the industry and we're available whenever you need us. There's no reason not to call O'Shea Plumbing the next time you need a plumber in Forest Hill. Our process starts with a fast quote system, so give us a call now.
Book a quote online!
If you're seeking the best plumbers in Forest Hill, contact us at O'Shea Plumbing to schedule an appointment. Our professional plumbers are here for all your emergency or non-emergency plumbing services. We're only a phone call away on 03 9888 2887.
Book a quote online!
Fast. Reliable. Trusted.