O'Shea Plumbing help an Upwey client with a burst water pipe
Sandor had previously used O'Shea Plumbing to do some sewer works many years ago. Since then Sandor has had no troubles with his plumbing until one Saturday morning in 2021. Sandor remembered the great service which was provided previously by O'Shea Plumbing and decided to make contact to see if someone was working that Saturday morning.
O'Shea Plumbing has somebody on call every weekend and every public Holiday (except Christmas Day), so Jarett (O'Shea Plumbing manager) answered Sandor's call for help and organised a plumber to attend as soon as possible.
Scott (O'Shea Plumber) arrived shortly after to find a mass of water pooling at Sandor's front door. A quick investigation found that a section of the galvanised iron water pipe had burst somewhere under the driveway and/or under a nearby retaining wall.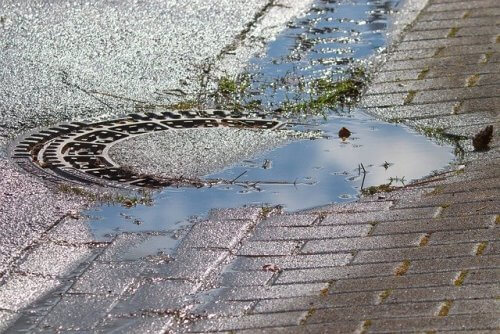 Scott mentioned to Sandor that he did not have the correct equipment on that day to dig up the driveway, find the water leak and replace the burst pipe. Instead, he offered an alternative option to bypass the leak meaning that Scott could get another O'Shea Plumber to come out and run a new copper water pipe around the driveway and retaining wall.
Sandor thought that this was a great idea as not only would it mean that his driveway and retaining wall would remain untouched, but the remainder of the problematic galvanised iron water pipe would be removed from the system, meaning this sort of problem would likely not happen again.
Andrew (another O'Shea Plumber) arrived on Monday and proceeded to dig a trench through the nearby forest on Sandor's property, placing 20mm copper in the trench and connecting this to the existing copper pipes under the house (disconnecting the old supply pipe from the system). Andrew went around the property after he completed the works and made sure that all fixtures had water supplied to them.
We work hard to find you a solution
From a call on Saturday morning to having a new water supply pipe run by Monday afternoon – all made possible due to the excellent service and systems O'Shea Plumbing has in place. O'Shea Plumbing genuinely wants to help out people not just by providing good neat and safe work, but also by completing works in a timely manner to minimise the time our clients have to put up with faulty plumbing.
No matter what the job is, the team at O'Shea will work hard to find you the best possible solution to the problem. Call O'Shea Plumbing today on (03) 9888 2887 – The plumber Melbourne locals can turn to for all kinds of general and emergency plumbing problems.