Raymond from Mont Albert North called the O'Shea Plumbing office in Mount Waverley as his Hot Water Unit (HWU) was leaking profusely. The team booked him in and Lawrie and Kevin called around to site shortly after. 
Upon arrival, Lawrie (O'Shea owner) and Kevin (O'Shea plumber) introduced themselves and discussed with Raymond how the O'Shea Plumbing service works. Raymond then let the plumbers inside and they got right to work inspecting the water leak on the HWU.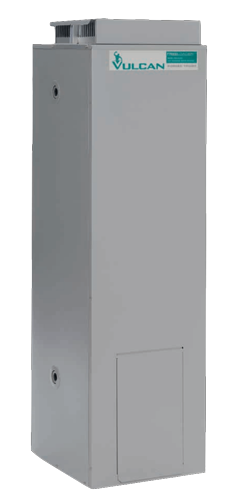 It was immediately clear to the plumbers that the leak was occurring as the existing HWU was very old and likely needed to be replaced with a new one. After receiving a number of quotes and options from the two O'Shea Plumbers, Raymond decided on a replacement Vulcan Freeloader unit. The Vulcan Freeloader unit is equipped with a special thermostat that keeps water at a temperature of 73°C, meaning that Raymond would use less hot water for the same length hot shower compared to his old HWU.
The unit was ordered from the Plumbers Supplies Coop in Mitcham and promptly delivered to the site. Firstly, Kevin pressure tested the entire gas installation for any gas leaks. Once the gas system proved sound, he completed the HWU change over from the old unit to the new unit.
Once the new unit was installed, Kevin guaranteed his work by testing the gas system again to ensure there were no gas leaks and that the unit was working efficiently. 
Raymond was so happy with Kevin's work that he sent the following email to say that he was "most impressed with Kevin's work, overall approach, and attention to detail".
This isn't the first time our clients have been impressed with Kevin's work. He has also received commendations from our long term valued clients Jamie & Annie from Cheltenham who said, "many thanks for the job yesterday. Kevin did a great job and was very kind and efficient" and on a separate occasion also said, "many thanks again. You always help us and we are lucky to have you!". Nice work Kevin!
If you are having issues with your hot water unit call on the professionals at O'Shea Plumbing. We provide maintenance, repairs and installation of hot water systems. O'Shea are the plumbers Melbourne can rely on. Contact us today for a fast quote or call (03) 9888 2887. We'll come running!