George rang up O'Shea Plumbing on behalf of his elderly parents with as there was hot water seeping out of the wall of their house and onto the ground outside. The friendly O'Shea operator scheduled in a time and told George that there would be an O'Shea plumber at his parent's house at 8am the next morning.
Andrew (O'Shea Plumber) arrived and introduced himself and the company as this is the first time that George had used O'Shea Plumbing. Once Andrew received permission to enter the building and was showed to the spot, he quickly realised that there was definitely a water leak coming from the hot water pipe feeding the kitchen sink. Unfortunately, he could not see the exact location of the leak but he could partially see the hot water pipe behind the rendered concrete.
Once Andrew knew what the problem was, he came up with some options to resolve the issue. Andrew provided George with the options and prices to fix this leaking pipe. This meant that George could choose how he wanted the pipes in his home fixed. George signed off on his preferred option and the O'Shea plumber got straight to work.
Andrew removed some of the render and found that the flared nut was leaking so went to remove this to have a look at the flare. The flare had split at the base and a section of the copper pipe needed to be replaced fix the leak.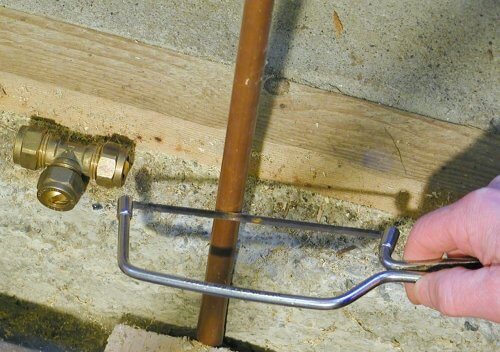 Andrew removed a bit more render from the house to access the leaking hot water pipe. Once it was within in reach, he cut out a small section of the copper pipe, replacing the section with new copper and a new flare which would solve the leak.
Once he had finished fixing the water leak, Andrew re-connected everything and turned the hot water unit back on, ensuring there were no more leaks.
George was so happy with the service provided by the O'Shea Plumbing team that he got on the phone to organise O'Shea Plumbing team to have a look at some issues he was experiencing at his own house. Well done team!
If you suspect you have a water leak or are experiencing another general plumbing, get in touch with the professional team at O'Shea Plumbing on (03) 9888 2887.