While comparison price shopping for a plumber in Melbourne, you will notice that there is a difference in how the plumbers price out their jobs. Some plumbers provide services for a fixed rate, while others structure their pay on an hourly scale.
The question that arises with this type of different payment systems is 'which is better'. We will explore the differences between the two types of plumbers and help you determine which one is the best when you need help with a plumbing problem in the Melbourne area.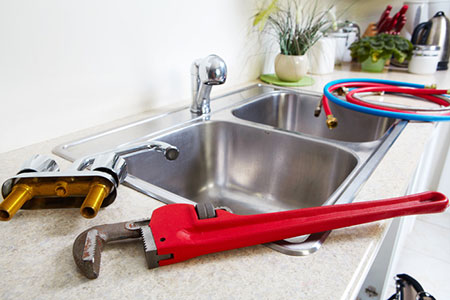 Fixed Price Plumber
The Hourly Rate Plumber
Hourly rate plumbers will come to your home and perform whatever plumbing service you need at an hourly rate. The overall price for the specific job, which is billed at a rate that is predetermined before the plumber arrives, will vary depending upon how long the plumber spends on a particular task.
For example, an hourly rate plumber will charge you for 2.5 hours of his time for fixing a blocked drain, as opposed to just charging a flat rate.
The Fixed Rate Plumber
The fixed rate plumber is the direct opposite of the hourly rate plumber. Instead of determining your final bill based on the amount of hours it took to perform a project, your bill is determined by the services the plumber performed.
For example, if a plumber comes in and fixes your blocked drains in the kitchen, this is done for a predetermined flat rate. You, the client, will pay the same price regardless of if it takes the plumber 30 minutes or 4 hours.
The only time the rate will vary with a fixed rate plumber is if something extra needs to be done. Sometimes a plumber may believe all that needs to be fixed is a blocked drain, but once he starts the work, he notices that the pipes need to be replaced. The price will increase if the pipe needs to be replaced, but this is only done with the permission of the client.
O'Shea Plumbing only operates on a fixed price basis. We understand that nobody likes unpleasant surprises, especially in the wallet, which is why our core values of convenience, honesty and accountability are underlined by our fixed price guarantee. If you are not happy with our work, we'll fix it for free.
When Determining whom to Use Do You Use a Fixed Rate or an Hourly Plumber?
The choice is ultimately up to you, but most individuals prefer to go with a fixed rate plumber. This is because they know exactly what they will be paying and not experience any surprises along the way. All additional charges are discussed and the client can prepare.
Using a fixed rate plumber also allows you to comparison shop for prices. It is easier to compare fixed rates than it is to compare hourly rates. This is because you will know exactly what price you are paying, as opposed to having to guess how long a project will take to complete.
Homeowners in the Melbourne area who are looking for a fixed rate plumber can trust the professionals at O'Shea Plumbing. We provide quality non-emergency and emergency plumbing services at fixed rates to all our customers. Call us today to schedule an appointment!