Lisa in Blackburn had been dealing with a reoccurring blocked sewer drain that a plumber had cleared previously with a water jet twice in two days. She decided to ring O'Shea Plumbing in Mount Waverley to send someone out to clear it properly and perform a camera inspection to find out what was causing her sewer drain to be so troublesome. 
O'Shea Plumber Jeremy arrived later that day and started by assessing where the drain ran. Lisa explained that her drain connected into her neighbour's drain before connecting into the main sewer drain. This is quite common for multiple units that were built on a single block of land such as Lisa's. Jeremy checked the inspection shaft in Lisa's neighbour's back yard to see if the blockage was located beyond Lisa's drain, but found that the shaft was not blocked, which meant the blockage was only affecting Lisa's drain.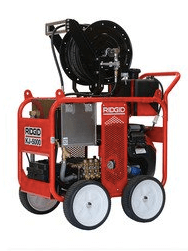 Using the Ridgid Drain Cleaning Machine, Jeremy was able to clear the blockage using a 65mm spearhead cutter. Jeremy then used a 100mm cutting head to ensure that the drain was completely cleared of any remaining debris. 
With the drain cleared, Jeremy was able to put a camera down the drain to investigate what caused the blocked drain. Jeremy found two 45 degree bends close together where the blockage was, so it was most likely that some toilet paper had gotten stuck going through the bends, and had eventually built up into a blockage. Jeremy also found that the drain was holding some water near the connection point into the neighbour's inspection shaft, which meant the drain was possibly falling backwards slightly in that area. 
Jeremy informed Lisa of what he found through the camera inspection and recommended that the poorly laid sections of drain be replaced, or she would most likely have similar problems in the future. Lisa thanked Jeremy for his help and said that she would try to contact the builder since the house was only 4 years old and could still be covered by the plumber's certificate of compliance.  Lisa was very happy with the service provided by Jeremy and O'Shea Plumbing and said that she would contact them for any future plumbing issues she may have. Well done Jeremy!
O'Shea offers a 12-month warranty on sewer drain blockages that reoccur in the same spot*. Contact O'Shea plumbing today on 03 9888 2887 for all your blocked drain and plumbing needs. O'Shea are the plumbers Melbourne can rely on!