O'Shea help a client with a blocked drain causing slow drainage issues on their Malvern property
Simon from Malvern is a longtime client of O'Shea Plumbing. O'Shea Plumbing has completed a variety of plumbing jobs ranging from upgrading their hot water unit to installing garden taps as well as other tap fixtures throughout the house. So when Simon noticed his laundry trough not draining or draining very slowly he knew who to call straight away.
Andrew arrived the next morning to have a look at the situation. After some inspection, Andrew found that the sewer outside the house was blocked somewhere and provided Simon with options to rectify the situation, including locating and clearing the blockage.
Simon quickly agreed to the quote and Andrew started setting up the equipment for the required works. Whilst this was happening, Andrew was also on the phone to Yarra Valley Water to find the location of the sewer point (the location where all the sewerage from the property runs to, joining onto the sewer mains). Once the sewer point was located Andrew quickly assessed that the drain was not blocked from here, so he would be able to localise the blockage and get a better idea of where the blockage was occurring on the property. Localising the blockage helps to keep the cost of unblocking a drain to a minimum.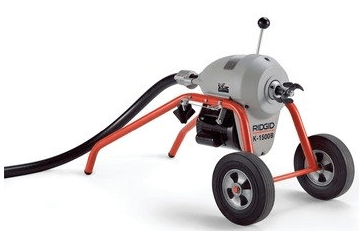 Andrew ran the cable machine down the boundary trap (BT) to find that there were some things in the drain which were not meant to be down there. These items slowed the draining of the entire sewer system and needed to be removed. Andrew ran the cable machine through the blockages in the drain, clearing away the blockage. Once the drain blockage had been removed Andrew watched all the backed up sewerage flow perfectly to where it was meant to go in the first place.
Once again, Simon was very satisfied with the services of O'Shea Plumbing as the job was completed in a timely and professional manner. Simon was also happy that Andrew localised the blockage as this kept the prices to a minimum rather than just running the cable down the drain in the hopes of clearing it.
Are your sinks, drains to toilets draining away slowly? You may have a blocked drain. If you would like us to assess and provide options to clear your blocked drain, get in touch with the team at O'Shea Plumbing! Call us on (03) 9888 2887 – We are the plumber Melbourne locals can rely on.