Noelle from Kew rang O'Shea plumbing in Mount Waverley as she had a sewer blockage on her property. Our plumber Adam and apprentice Jeremy drove down to investigate. When they arrived, Noelle told them that the toilet had blocked up previously approximately 12 months ago.
After looking around the property Adam and Jeremy found that the only access to the sewer was through the toilet. After removing the toilet Adam and Jeremy saw that the blockage was located immediately below where the toilet connects to the drainage system.
They attempted to clear the blocked drain using a Rigid cable machine, and made some progress. However, due to the severity of the tree roots that had grown into the drain, Adam and Jeremy were unable to completely clear the blockage.
The next day owner and lead plumber Lawrie and Jeremy returned to Noelle's property with an older Rigid machine that was much more powerful than the standard machines carried on the O'Shea Plumbing vans. The larger machine still struggled to cut through all the roots but eventually, the blockage was cleared.  
Lawrie and Jeremy then put a drain camera down to investigate where the tree roots were getting into the drain to ensure that the drain was completely cleared. They found a secondary blockage further down the drain, but were able to clear this one easily with the cable machine. They put the camera down again and saw that the rest of the drain was clear of any other blockages.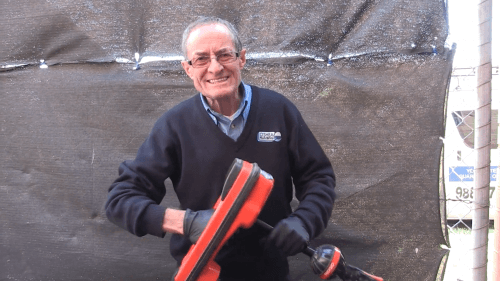 Lawrie and Jeremy suggested that Noelle have her drain relined to ensure that the tree roots could not grow back into the drain. 
Noelle was extremely pleased that her toilet was unblocked and flushing properly again.
Ever wondered how plumbers clear a blockage? Read our blog about how plumbers clear a blocked drain. At O'Shea Plumbing, we strive to offer competitive rates on all of our blockage services while keeping our standards high. Have a blocked drain? Contact our team of plumbing professionals on (03) 9888 2887.